Honda's latest 150cc offering, the CB Trigger, comes with Combi Brake System
The Honda CB Trigger 150cc bike, which was unveiled last month (Honda CB Trigger unveiled), is now available at a price of Rs 67,384 (ex-showroom Delhi). Pricing of the bike is slightly steeper in Mumbai and starts at Rs 72,431 (ex-showroom Mumbai). This is the fourth launch in the 150cc segment by the Japanese two-wheeler manufacturer after the CB Unicorn, Dazzler and CBR150R. The latest offering is powered by a 150cc, four-stroke mill capable of pushing out 14.14PS @ 8,500rpm and boasts a torque figure of 12.5Nm @ 6,500rpm. Visually the new bike looks like a beefed-up version of CB Twister with some design elements influenced from the Dazzler.
The CB trigger is the first bike in the country to have Combi Brake System (CBS) as an option. The CBS applies both the brakes simultaneously which aids stability under hard braking and reduces braking by as much as 32 per cent. Honda has loaded the new offering with features like mono-shock suspension, digital instrument panel, tubeless tyres, maintenance-free battery and viscous air filter. The company claims that the CB Trigger will return a mileage of 60kmpl.
මචන් මෙන්නේ honda එකෙන් (ඒ කිව්වේ honda ඉන්දියන් එකෙන් ) අලුත් කුක්කෙක් එලියට දාල අපිට දැන් ආවට එහෙට ඇවිල්ල තියෙන්නේ 2013 ජූලී මාසේ .
මහින්ද මාමා සහ ගෝලොයෝ රොත්තට පින්සිදු වෙන්නේ මේක ලක්ස 3ක් විතර වෙනවා ලංකාවේ මුදලින් ඉන්දියාවේ නම් ඉන්දියන් රුපියල් 70 ත් උපරිම 90 අතරලු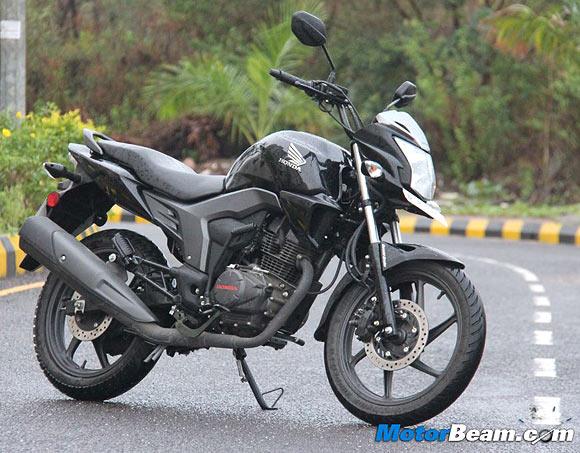 The bike will be offered in three variants namely Standard (disc brake in front and drum in rear), Deluxe (disc brakes front and rear) and CBS (disc brakes front and rear with CBS). Bookings for the bike had started in April itself while deliveries will start this month onwards. The 150-180cc segment currently contributed upto 10 per cent of the total two-wheeler sales in the country and with the CB TriggerHonda plans to increase its sales and penetrate this segment deeper.